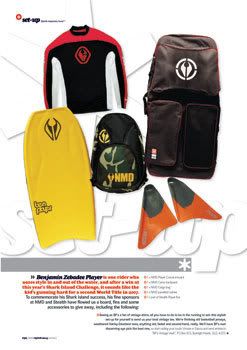 Wanna win BP's set-up?
Then here's your chance!
The fine chaps at
NMD
and
World Bodyboards
have been kind enough to donate some fresh gear for you guys to to win.
Here's what's up for grabs:
1 x NMD Player Concave board
1 x NMD Camo backpack
1 x NMD Cargo bag
1 x NMD panelled rashee
1 x pair of Stealth Player series fins
So what's the catch, what do you have to do to get your greedy mitts on this stuff?
Well, it's simple. Seeing as BP's a fan of vintage clothing, all you have to do to be in the running is to
send us your best vintage tee
.
There's been plenty of questions asked on what constitutes a "vintage tee", so here's the deal: A vintage tee is a shirt, like something you'd expect to pick up at St. Vinnie's - possibly faded, old-school print, a collectors item.
Here's an example:
Pictures unfortunately won't make the cut, the shirts have to be the real deal! It's a small sacrifice for the package you could potentially win.
The winner will be posted online and will also be posted all the goods!
Send your entries to "BP's Vintage Vault", PO Box 823, Burleigh Heads, QLD, 4220.
Any questions? Feel free to email me:
aaron@riptidemag.com.au