Yer - so recently I was down at blackrock with Southern. I always keep an eye on the other riders to see what is going down around the place. There were 2 standout riders that day. One was James Kates, the other... charging his friggin sack off was the rider featured here - Sam Bennett. Blackrock is no place for fools and tends to attract hardcore - suffice to say it aint easy to stand-out there, but Sam did easily. Sam is from the Port Mac region... nuff said there.
Watch out for this name - you will be seeing more of it... yes, Sam qualified at the SIC trials. this man is going places. I watched his eyes as he came at me through a barrel... they're the eyes of a charger - he has the hunter instinct that is for sure. Accompanied with the interview are a few images, I will be adding a few more high res as I track them down. There is no way I'm leaving this gear laying around in my hard-drive, so banging it up asap for the crew to Froth on.
This interview and many of the pics are in our "Most Underrated section"... now that it has all come together, I'm combining it as a single unit here in Self Promo...
Give it up for Sam - he is a pro rider riding Pride. Make sure to bang a comment up if you like the pics. He is a dead set solid charger.
Doc
1. What is your name? (So we spell it correctly) Samual James Bennett
2 What is your riding nick? Sam
3 Age weight and height? 18, 73kg, 6"2
4 Prone/DK/Versatile? Prone
5 What board(s) are you riding? Pride Combo 909 41.5"
6 Which club? Port Macquarie Bodyboarding Association
7 How long have you been on the Boog for? 7-8 years
8 How did you start riding? I knew my brother was into body boarding and being my older brother, I wanted to be like him so I thought that if I started body boarding I could be as cool as him ha-ha
9 Which riders inspire you most and how/why? Ryan Hardy, Jono Bruce and Michael Novy because they kill it style-wise.
10 Fave move and why? Reverse of the top for sure because it's the hardest to control and if you can do it and make it look good you've must be doing something right!
11 Fave break and why? Breakwall or a certain wave a bit north of home.
12What can be improved in our sport? Money
13 Where do you see Booga heading? Secret 15-20 foot barrels and guys doing 720's like they're nothing.
14 Biggest wipeout? Breakwall – I basically got washed up to the path. All I could remember is getting up next to a filmier and started throwing up haha.
15 What goes through your mind when you are about to take on a wave bigger than any wave you have tackled before? I hope I don't slide out or nosedive!
16 What do you do to keep fit and train for boog? I try to eat good but other than that nothing! haha
17 Fave boog photographer and why? Maddog haha nah most likely Phil Gallagher.
18 Who is another up and comer you reckon will go far in the future? Thomas Rigby
19 Your future aspirations? To be paid for doing what I love doing.
20 Any ideas for getting you better known? Need to trip about more!
21 Whom would you like to thank? Mummy
(note from Doc - many thanks to Sam's mum for helping sort the interview and pic permissions)
1.Photog unknown
2. Photog Michael Jones - South Coast
3. Photog believed to be Andrew Turnham
4. Photog Brodie Gillian - Breakwall Port Macquarie
5.Photog unknown
6. We took that from a vid. He got that over on the N shore Hawaii. His girlfriend Jenna Clifton took it.
7.Photog Legendpix Avalon 2007
8.Photog Brodie Gillian
From jonisnumberone:
(I've brought this directly downfrom the underrated thread, so has Jon's accompanying text in it also - thankyou Jon)
first time ive opened this thread, and id have to say sam bennett from port mac is sooooo under-rated. Saw him out pipe during the holidays, and all i can say is, man this guy can boog. sooo many sick airs. heaps of air revs, a SICK invert, and a sick air foward. Also seemed like a nice bloke too. yewww
Frames: Jon Glanville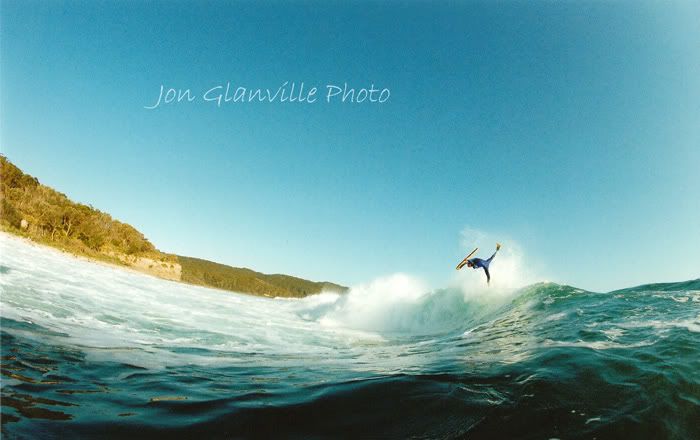 A continuation of pics sent from Sam's mum - username "harmony4ever" on the forum:
9. Photographer: James Adams Queensland
10. Frame: Videographer James Kates
11. Frame: Videographer James Kates .
"I always think his name is Kastey I dont know why. Its the guy that made Waynes Addiction lol South Coast " (Haha Sam's mum's - harmony4life - quote from the e-mail identifying the photogs)
12. Mark Ashdown Port Macquaire
and 2 Sequences from Shark Island trials from photographer
Darryl Menzies
.
Darryl has not been featured on the forum before, nor is he a user, so it we have sought special permission to use his frames. Thankyou for your time in exchanging e-mails Darryl and especially for trolling through your storage devices to find these. Darryl doesn't know us at the forum from a bar of soap and organised this as a time-consuming favour to get behind an underrated world class BB'er.
You can find more of Darryl's work at:
http://www.biarmsdigital.com
1.
2.
3.
4.
5.
6.
7.
8.
9.
10.
11.
12.
13.
14.
15.
16.
17.
18.
all that we don't have now are the great shots from photog local to Sam, LegendPix, which are included in the original post. I'll contact LP and see if he will repost them in this thread..
Please enjioy, many thanks to all the photogs who have contributed - and Sam, we wish you the greatest of success in the future.
As previous comments have shown - you are a charger and a rider displaying utmost courtesy to everyone around at the same time.
Respect.