Me and a friend has just got out of the water, and were about to pack it in and go home when I see this lunatic jumping round and waving his arms at me as he walks down the beach. I've got no idea who it is so I just wait for them to get close enough to see their face. When they get within 10 metres I see this scrawny South African, smiling ear to ear and I realise its Mark. After exchanging a few words I agree to head back out and surf with him for the next 3-4 hours. Surfing with Mark isn't like just surfing with a normal bloke, he pushes you and makes you want to the sickest thing all session which is awesome. Always smiling, always chatting he keeps things positive. He also rips damn hard, so here is a little insight into one of my favourite Saffas…
1. Mark, great to chat. To start off lets get the basic stuff down. Age, DOB, height, weight?
age 30 - 27th Oct - 183cm - 72kgs
2. Where exactly are you from in South Africa?
Im originally from Durban and was born in Amanzimtoti southern Natal. Been spending the last few years in Cape Town.
3. Can you describe your local wave for us?
My home grown local spot is Cave Rock in Durbs, a fun right hander reef break that will offer one sometimes two sick barrels with a mega ramp on the inside. But being down in Cape Town its pretty much been Derdersteen, fun beachy that breaks a bit like Boodji and can get really good!
4. And who did you surf with?
Most of my mates back home, normally with a good crew of Simon, Ruan, Andy, Deon, Pierre and loads others. Depends on the location where im at. Generally love missioning for waves and getting into the water with most crew and just having good fun sessions and pushing friends where possible.
5. You said that you had some sick stuff going on for you in SA. Who was backing you, and why did you leave?
With a solid crew for missioning for waves and exploring who are dedicated its epic. Also had two good fellow friends Peter and James who we used to be running around chasing the big swells. We had a small and trusty boat (dubbed the Ugly Duckling) which we used for exploring, shooting and towing which was good. Guess what i loved about being back home is how everyone is always stoked and pumped. Whether we are missioning for waves which are a few foot unto paddling / towing 15 - 20ft cold water bombs…On my heart i had a calling for some solid waves and pushing things more. Guess i checked a few bombs out here also that ive set my heart on and want to get into some more big wave surfing again also.
6. You are an absolutely brilliant photographer, I have been showing all my mates your site and they froth it, what do you find so appealing about it?
Thanks man! My good friend Ivan got me into shooting when we did a trip to Canary Islands one year and was sucked into it since then. Generally just love capturing moments and sharing it with friends and people. Ive always enjoyed having a bit of a creative eye for things and believe it helps to see the world in different ways and appreciate things more.
7. In your opinion, which rider have you found is the easiest to work with when shooting and why?
One of the best riders has been Brandon Foster a good mate who ive spent a fair bit of time with. He is used to working with cameras, going all out and knows what the photographers are after. Its a good balance and the rider also needs to work hard to get the shot and a lot of people don't understand or appreciate how much time goes into it. Best thing is to chat to photographers and learn to work with them. Shooting water is a whole new story, ive had good mates that just couldn't get the shot, with riding as good as they were they didn't realise water shots they had to clean the style and lines up a lot…its a win win situation. Give the photographers some credit and never burn your bridges with them as you will need them. They don't get paid for it or much at all so most of its for the love.
8. What camera are you using?
Im shooting with just a Canon 7D at the moment. I carry around 2 main lenses my 70-200 and my 300mm with a few other bits and pieces in my bag. Unfortunately i had to sell a load of my stuff like lenses, housing etc to make it out here to Oz as it aint cheap! But now im out here im starting to save to buy some more lenses again, yew
9. Any tips for guys wanting to get into photography?
Find the area you want to shoot, best to be flexible in all areas. Don't worry about the latest equipment and most expensive cameras. Cause if you have a top notch camera body and really bad lens you are back to square one. I remember shooting front covers of Mags with a Canon 350D. Post work after you take the pics and do the edits is a big role in getting your work done. Do a bit of homework, keep yourself absorbed by content like magazines, website etc. Don't be scared to ask questions or try new things. Enjoy it and open your mind and views on the world. Most people start out with basic point and shoot low cost digital cameras, even thought hat might struggle to get good surf shots you can def get some good lifestyle shots of lineups, mates, road trippin etc and thats even sick to reflect back on.
10. Have you got any major plans for the next 6-12 months?
Shew got a lot id dig to do! How much i achieve i will have to see. A few goals ive set is Hawaii this year / comp if finances pull through. OZ IBA tour next year and keen to push for Tahiti madness also and some big wave spots. Local to Oz found some secret slabs down SW Oz that no one knows of yet which are NUTS, so stayed tuned for that next winter… Another big goal im pushing for is a front cover and international magazine coverage also in publication and film as a rider for once.
11. What are your views on competitions? You seem to froth them pretty hard, even tiny Confital we were just watching?
Competitions are good, brings out the best of the good riders that we have today. Believe the best riders will rip in all conditions. Always watching them and supporting mates on the tour by watching live feeds etc. I haven't personally been riding many as just didn't like the layout and format of them, but with the new year approaching and major changes coming through for events / scoring systems its going to be good and take things all out! its a long waited revamp for contests which has been much needed and its definitely going to push the competing levels!
12. Who inspires you the most when it comes to pushing the limits in bodyboarding, and in life in general? Which people make you just put everything on the line and just have a go?

One will have to be Brenden Newton just going next level all the time! Religion and faith is a vital role but the way he also challenges people. Another will have to be Ryan Hardy, the nice guy he is and skills which are just to good! Brandon Foster is really good, focused and he makes things happen, guess thats just the S.African way of life as most of us come from very little. With all characters primarily being humble and committed, its a big thing to me and it shows a lot about a person. Personally myself its a lot to do with faith and belief also.
13. What mix of prone/dk/stand up boogie are you riding?
haha knew this was coming. Prone - 80% / DK 15% / Standup Boogie 5% and stand up surf also depending on conditions. Guess its just about being flexible and comfortable in all areas helps in the waters.
14. What boards are you running in your current quiver and what are your current faves?
Ive been riding NMD the last few years and thanks to them looking after me. Boards are BP 41'5" with crescent. 2 x PP, 1 x PE and now ive just moved onto a TurboV PP for summer. At the moment it is definitely the TurboV, template and dimensions are pretty much identical just very slightly wider, also materials and response seems to be going really well with good pop and drive! Just need some solid waves now to test it out in.
15. What dimensions and core compositions are you finding hot for your riding at the moment?
Board is 41'5" and crescent tail. Nose and wide points are quite crucial for me also with esp summer conditions coming into play. Im running with a PP core at the moment with PE deck and rails with summer and warmer waters. Its got great response and good pop in it also which is needed esp for those lumpy conditions. Big slabs and heavy waves usually try stick to a PE / 3D core for a good scope and clean drive.
16. And how about accessories – leash, fins and wetsuits?
Leash, generally stick with Creatures of Leisure, good bicep which is comfortable and really strong. Fins Got some Churchills and Limited Editions. Keeping me comfy in the water is AgentEighteen wetties, fit well and love the chest zip, no neck coming undone or flushes of water in beat downs haha.
17. Fave breaks – local and overseas?
Wow, there are quite a lot hey! Back home in SA - Cave Rock, Dunes, Weskus spots (loads of names and secret spots, lets just say its good!). W.Samoa - Aganoa / OTW Hawaii / Canaries El Quaemo / Oz - Booji, Box, House, Cyclops and loads more!
18. What would be the biggest wave you've taken on?
Would be back in Cape Town, spot called Sunset reef. Its a big cold wave spot. You generally try to paddle into it unless it gets to big and sketchy then you need to tow it. Reason being cause its got 2 shifting peaks so hard to get the take off spot right without getting cleaned up, loads of sharks and freezing cold water. Not to forget atleast a 10 - 15min paddle out. Biggest wave is prob around the 20ft / 40 - 50ft faces which we had to tow as was to big to paddle. Its a funny thing, cause when you surf normal waves its easy to call size, but when it gets over 12ft plus it starts to get tricky!
19. And what's the toughest wave you've hit up?
It would probably have to be Cyclops, just very challenging on the take off, which one will or wont go to dry, turn itself inside out, how long you will last before you hit the reef and goto hospital etc. You see the biggest barrels of your life but you cant just paddle into anyone, its a patience game and you have to watch out for sharks also! We got chased by 2 in about 2hrs of being out there, one almost got me cleaned up by a 6-8ft bomb set deep on the take off. Shark started splashing towards me on the reef and was only one out so (couldn't hide behind mates) at the time so scratched for the dry shelf, only to click i was at Cyclops so turned around and thought id take my risk with the shark! As i turned around had a few monster sets roll through and don't know how i duck dived through them, even my mates on the ski thought i was a dead…
20. What's the maddest roadtrip you've been on?
would have to be when i first rocked unto Oz, just a few mates, 4x4, ski hooked up and open road and 3 weeks of missioning! Was really epic and was just so good. I spend a lot of time on the road in general even on short trips, looking for waves etc and have loads of stories from different countries. Guess to short to tell on here so ill have to tell you one day on the road.
21. Who are some of your fave photogs?
There are so many i look to for inspiration! For the surfing scene a few would be Tim Mckenna, Mickey Smith, Cockwells and loads more...
22. Scariest moment on the boog?
Ive had quite a few shark encounters and very close calls, but would have to Bayview cold wave big spot in Hermanus. Was sitting out back on the main peak and was only guy out back. Was some good chunky barrels coming through and first time ive surfed it. I was sitting out back and waiting for a set, problem is its hard to tell where the take off zone is cause the way the bay is shaped for markers. I had a random freak set role through and couldn't out paddle it and with all my effort it broke about a meter in front of me, wave was hard to call how big it was, say anywhere from 12-15ft but solid ground swell shifting over a reef. It was big enough and tried to duck dive it, within moments it was sorting me out! I had been down for quite a while so started counting (method we use in big waves count to 10 slowly and you are normally up by then). I had reached 10, been under already for quite some time and was still very deep under. I didn't know which way was up or down and the water is freezing - ice-cream headaches deluxe! To sum it up basically goto the stage where had to let go and start breathing in water, was a very surreal feeling and becomes very relaxing and a strange calm. All of the sudden got shaken back to reality with another shockwave and pulled me back around. Managed to climb my leash and break the surface and popped up next to another big wave standup surfer who didn't even know where i had come from as he was paddling out. I had been down for probe easy 20 - 30secs and dragged a few hundred meters under water, problem is freezing waters like that make it harder to hold your breathe. Loads of people on the rocks who were watching thought i had drowned and to this day was the closest ive ever come to drowning.
24. What do you reckon BB needs most at the moment?

I believe people need to learn to be more open and humble. Christianity and belief is a big part missing here in Oz i find. Most the top bodyboarders around the world and places like Europe, South Africa and other countries religion is a big part of life and its so different. In SA loads of top bodyboarders froth on church and its like going to a huge concert with hundreds sometimes thousands of skaters, surfers, bodyboarders etc. Its mind blowing how different some countries are. If you go there and check it out it will blow your mind away! Maybe it has something to do with a big struggle for a load of people in South Africa and other countries i don't know? I know loads of absolute ripping bodyboarders who will probably never leave their city or country yet would dominate the IBA tour big time. Its amazing to see the backing bodyboarding gives riders here in Oz, don't think a lot of people appreciate it either. Owes are getting loads of boards, as many wetties as needed, salaries, travel money etc….Back home top end riders got a few boards for free a year if they were lucky and maybe a wetty with some stickers. Still pretty much to this day! Would be good to see more companies getting together and helping out upcoming riders who struggling financially also.
25. What do you love most about the BB culture?
I must say really love the BB culture back in S.Africa. Everyone is very welcoming and open. If you're a bodyboarder we froth and whether you need a place to stay / trip or whatever you're always welcome. Thats anywhere across SA with any bodyboarder period. Come pay us a visit!
26. Who would you like to give a shout-out to?
All the SA boys back home and those around the world at the moment! Also those killing it on the tours and road trips.
27. And finally who are your sponsors?
At the moment i don't have any full sponsors as having to start off again from scratch moving out here to Oz. But its a challenge im frothing on and hope to be picking up a few sponsors going forward for 2011. Firstly Reeflex for looking after me when i arrived. Otherwise give a big thanks to AgentEighteen for looking after me now and as well as Bomb City in Margs (go check them out) also for looking after me.
much love, yew!
The shots! (I didn't get the photogs. name from him, thats why there are no credits. I have put in the name where I know who it is. Don't blame me
)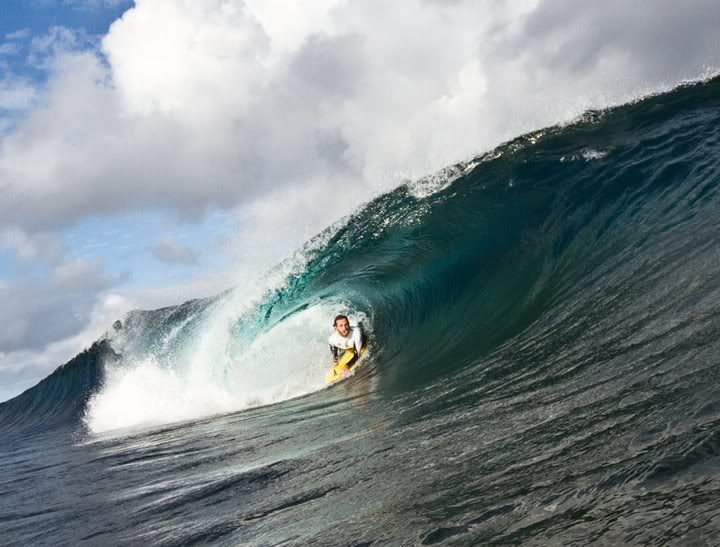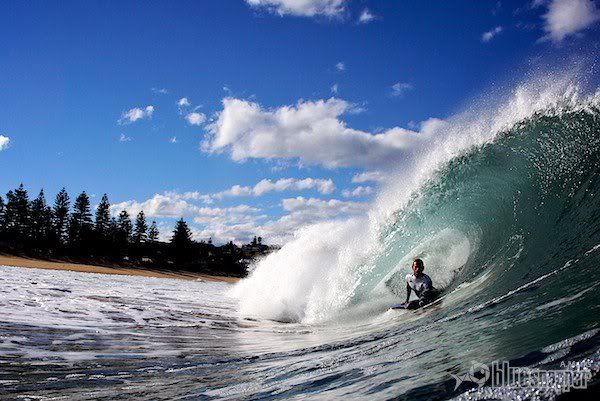 This one is Box and I'm pretty sure its taken by Leslie Payne.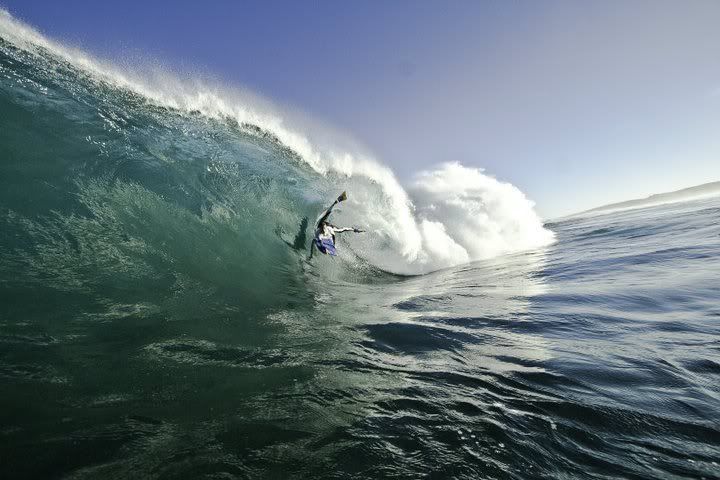 Photo: Leslie Payne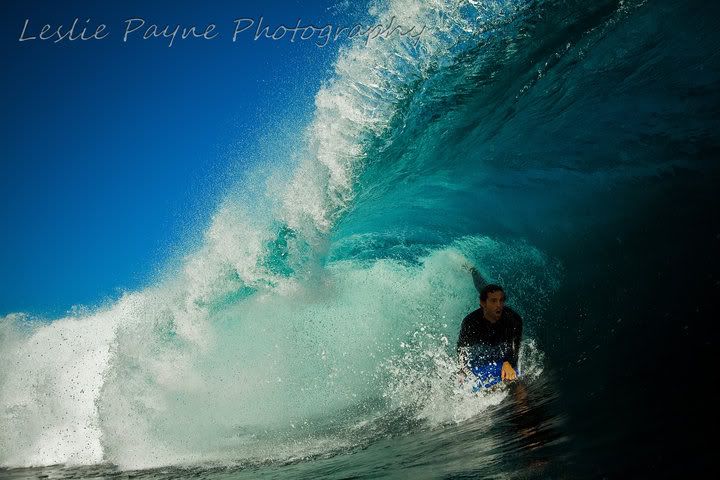 This is Mark at Cyclops, right before he got rolled. He said he got caught on the end section and got tumbled onto the inside section pretty hard.